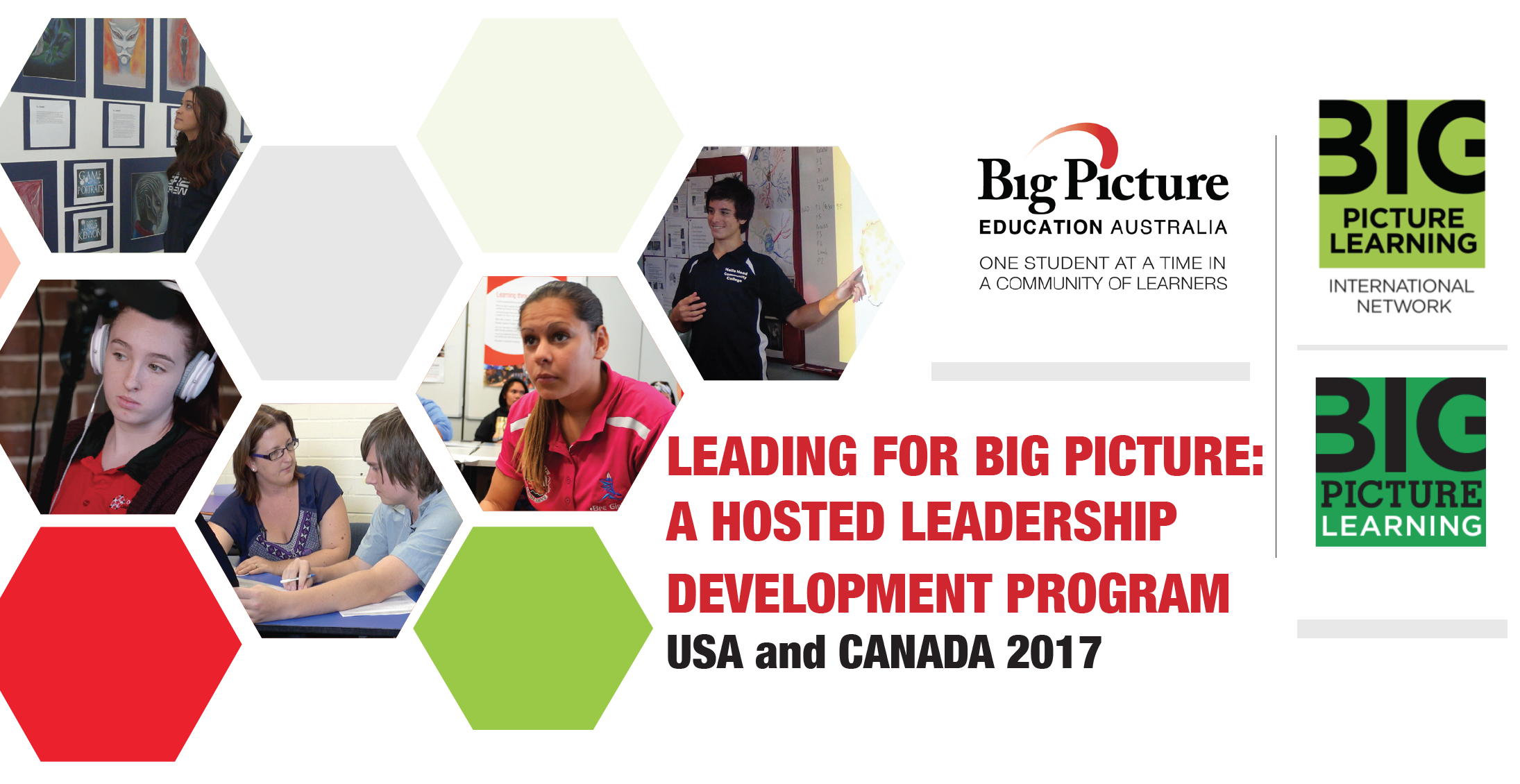 You are invited to participate in this immersive Big Picture Education leadership development program in the USA and Canada in 2017. This program will be facilitated by Australian and New Zealand Big Picture Leaders John Hogan, Viv White and Jen McCutcheon.
Leading for Big Picture is an interactive program. It is designed for senior school-based or systems-based educators keen to advance innovation in their unique context. It is an opportunity for those leading Big Picture schools or those considering doing so to challenge themselves and develop their capacity as leaders in environments centred on personalised, interest-focused learning. As part of the program, participants will engage in intensive training with Dr Elliot Washor, co-founder of Big Picture Learning USA, alongside Big Picture Australia and New Zealand leaders Viv, John and Jen. Then, as part of each school visit participants will participate in the life of the school and in the leaving to learn contexts. They will interact with students, advisors, mentors and leaders. Participants will discover what their counterparts around the world do and think, and why it works. The group will collaborate together to share impressions, give and receive feedback, explore innovative ideas and plan how to integrate this new learning into each person's home context.
Participants will also develop their capacity to influence key school and system players at home. Together we will learn not just about leadership but also about leadership-building, and about how to foster innovation in learning communities, not just in individuals. The Big Picture design, as it applies to students, educators, and leaders, is interwoven through the entire professional development course. Participants bring what they know, and take away much more to keep working on. Whether participants are just starting on the Big Picture journey or are experienced veterans, the program is part of participants' long-term engagement around the design. After returning home, participants will continue to engage around ideas developed on the trip.
From our many years of conducting international leadership development courses, we know that this kind of immersive, personalised, guided program is unparalled.
Itinerary
Week 1: Intensive leadership development coaching in conjunction with Big Picture Learning USA + Facilitated School Visit
21 April - Depart Australia
24 April - 26 April: Training with Dr Elliot Washor, co-founder Big Picture Learning USA, San Diego, California
Dr Elliot Washor, Ed.D. has been involved in education reform and school design for more than 35 years. In 1995 Elliot Co-founded Big Picture Learning and the Met Centre in Providence, RI, recognised as one of the most innovative high schools in the world. This intensive training will look at all levels of school design in urban and remote settings. We will strengthen our understanding of how, as leaders, we can connect students, schools and communities to improve real-world student learning.
27 April – 28 April: School Visit 1
Program facilitators will be taking participants in smaller groups to schools based on each participant's interests and needs. Program facilitators have worked with each of these schools and have selected them for this program to exemplify the successful implementation of the Big Picture design in many different contexts. Participants will have to opportunity to select the schools they wish to visit, in order to maximise each participant's engagement and learning. Each school visit will include one in-school day and one leaving to learn day.
School visit 1 is a choice between:
Santa Monica Alternative School House (K-8), 2525 5th St, Santa Monica, CA, Principal Jessica Rishe
New Village Girls Academy, 147 North Occidental Ave, Los Angeles, CA, Principal Andrea Purcell



Week 2: Facilitated School Visits
1 May – 5 May: School Visit 2
School visit 2 is a choice of two out of the following three schools:
Met Sacramento, 810 V St, Sacramento, CA, Principal Vince Wolfe
MetWest High School, 314 E 10th St, Oakland CA Principal Charlie Plant
Seven Oaks School Division Met School, 640 Jefferson Ave, Winnipeg, MB, Principal Nancy Janelle

Week 3: Facilitated School Visits - Going Deeper
8 May – 11 May: School Visit 3
School visit 3 includes visits to the following two schools:
Nashville Big Picture High School, 160 Rural Ave, Nashville, TN, Principal Chae Denning
The Met High School of Providence and Newport, 325 Public St, Providence, RI, Co-director Nancy Diaz
12 May: Depart USA
COSTS
The fees listed cover program and facilitation costs as well as school visitation fees, but excludes travel and accommodation costs. Travel and accommodation can be arranged by BPEA for an additional fee. Attendees have the option to customise their program, attending either Weeks 1-2 or 1-3 with the additional school visits. Please contact BPEA for any further information about the itinerary.
April 21st, 2017 9:00 AM through May 12th, 2017 9:00 AM
Coaching and School Visits Weeks 1-2 (excl GST, travel, accomm) - Member
$ 3,000.00

+ $ 300.00 GST

Coaching and School Visits Weeks 1-2 (excl GST, travel, accomm) - Non-member
$ 4,000.00

+ $ 400.00 GST

Going Deeper: Coaching and School Visits Weeks 1-3 (excl GST, travel, accom) - Member
$ 4,000.00

+ $ 400.00 GST

Going Deeper: Coaching and School Visits Weeks 1-3 (excl GST, travel, accom) - Non-member
$ 5,500.00

+ $ 550.00 GST