SMYL Community College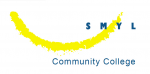 32 Tesla Rd
Rockingham
Western Australia 6168
Phone: 08 9550 9400
School profile and context:
SMYL Community College was established in 2011 as a referral only CARE school (Curriculum and Re-engagement to Education) for Year 10-12 students in the Rockingham-Kwinana area who are, or are at risk of becoming, disengaged from mainstream schooling due to a complex range of risk factors, behaviours and life situations.
Program description:
SMYL CC operates an alternative education program through Big Picture Education Australia that caters for both the educational and welfare needs of each student. The school team consists of 2 non-teaching principals; 6 teachers; two part-time education assistants; a counsellor; a youth worker and an administrator.
Website: http://www.smyl.com.au